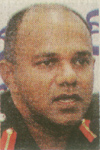 THE newly appointed Commissioner General of Rehabilitation Major General Daya Ratnayake said that several thousand LTTE cadres could be still among nearly 300,000 civilians accommodated at welfare centres in the north.
Addressing a press conference at the Information Department, Ratnayake said that once the Police and the Army had completed the ongoing screening process the numbers of LTTE cadres in government custody could go up as high as 20,000. The serving officer said that though as of yesterday (30) there had been 9796 men and women held at 12 detention centres in the Vavuniya region, this figure could go beyond 15,000.
Responding to "The Island" queries, the former Military Spokesman said that among the detainees and those taking refuge among the civilians were suicide cadres. He emphasised that some of those in custody would have to face due legal process though the vast majority would benefit from the rehabilitation process. The police and army were in the process of inquiring into the background of persons in custody.
Ratnayake, who had commanded the 23 Division involved in the liberation of the Eastern Province subsequently functioned as the Forward Area Maintenance Commander, Jaffna before being asked by Defence Secretary Gotabhaya Rajapaksa to take over the fresh assignment.
Media Minister Lakshman Yapa Abeywardene told the briefing that a gazette notification would be issued shortly to bring the subject rehabilitation under Justice and Law Reforms Minister Milinda Moragoda. Major General Ratnayake would work with a team of officers who had been involved in rehabilitation of child soldiers after the liberation of the Eastern Province.
Abeywardena said he was confident that the international community would assist Sri Lanka to rehabilitate LTTE combatants. The rehabilitation of LTTE cadres and their families would be a gigantic task. According to him, the government had expanded and strengthened the rehabilitation process following the collapse of the LTTE. He said that of some 1000 LTTE cadres taken into custody in the Eastern Province, 837 remained at rehabilitation centres in several parts of the country.
He declined to comment on the possibility of the detainees at northern camps being given a chance to join the army. Chief of Defence Staff General Sarath Fonseka recently told The Island that though they wouldn't raise a Tamil Regiment as speculated by some people, about 800 ex-LTTE cadres had been recruited to the army.
He said many in detention once rehabilitated could engage in agriculture and fisheries. (Courtesy: the island)