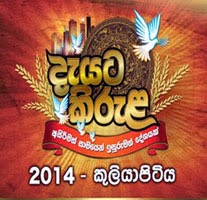 Principal at Kuliyapitiya Ilukhena Gunananda Maha Vidyalaya, in a letter addressed to the Commander of the Army, Lieutenant General Daya Ratnayake, has commended the exemplary conduct of troops, who temporarily resided in the same school premises during '
Deyata Kirula
' mega exhibition (Feb 23 - Mar 2).
'Though I was concerned a bit when the school were to be given to the Army for this specific purpose at the initial stage, I began to change that presumed mindset, having seen how those soldiers in exchange of their occupancy of the premises, were conducting a series of cleaning projects in the premises in order to get rid of garbage and repairing other needs of the school'.
'To my surprise, those soldiers while resting after duties, were found cleaning the school premises and the drinking water well, repairing broken huts and sheds, painting the walls and doing almost everything, needed to keep the school neat and tidy', the letter added.
'Our school being a very undeveloped one in this area has a student population from very poor families and having seen what the soldiers, have done for the school, I summoned teachers, parents and school prefects together and thanked the Army for their generosity and exemplary gratitude shown in exchange of the shelter we provided to them', the letter further added.
The letter mentioning about the proper conduct of 1 Gajaba Regiment officers and soldiers who were using the premises went on to mention that their example would remain an eye opener to all in our society, Principal, Mr W.E.M.J Chandrasiri said in the letter.