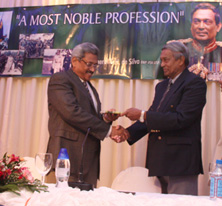 A Most Noble Profession - Memoirs That Linger, a book written by former Commander of the Sri Lanka Army (1994-1996), General Gerry de Silva, on his experience as a top ranking military officer was launched on Wednesday.
During the launch held at the Ramada hotel - Colombo in the presence of a large gathering of past and present top ranking military officials, General de Silva (retd) presented the first copy of the book to Defence Secretary Gotabhaya Rajapaksa.
Speaking during the launch, Prof Rajiva Wijesinha, MP noted that A Most Noble Profession was a book which presented a graphic account of the evolution of Sri Lanka Army in one of the most crucial periods in the country's history.
Speaking on its contents, Prof Wijesinha said that the book included a detailed narrative of General de Silva's experience as an officer during the JVP insurgency.
It contains the beginning of LTTE militancy and how it grew as a potent force. It also presents vivid details of various battles fought by the military to defeat terrorists, he added.
He not only talks about the cruelties and the ruthlessness of the terrorists but also the plight of those who became victims to it, he observed.
Dr. Wijesinha said that the book presents interesting observations on politico-military strategies adopted by various regimes and also ponders on challenges faced by the nation during the post-conflict era. He also commends the government's role and its commitment in winning the humanitarian mission, Prof. Wijesinha added.
While describing the launch of A Most Noble Profession-Memoirs That Linger as a most timely one in a country where war literature is a scarcity, Prof Wijesinha urged other top military officials to come up with their own memoirs as well to provide others with information and help them to learn from the past.
(Courtesy : Daily News)