THOUGH the LTTE terrorism was brought to a finish about two months ago, the memory of atrocities committed by the terrorists cannot be erased from the minds of the people in the country. The Tiger terrorism knows no religious sanctity, nor does it care for the lives of infants, children, women, and clergy or for that matter, anybody else. This was once again proved exactly nineteen years ago when Tiger terrorists cold-bloodedly butchered 147 Muslim devotees, praying in the mosques in the pre-dominantly Muslim town of Kattankudy, Batticaloa in the east.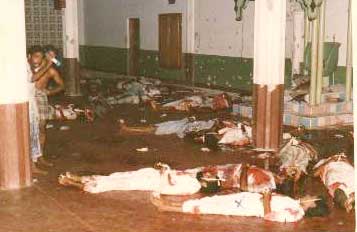 The horror night (3rd August 1990) massacre at Kattankudy that shook the nation and drew worldwide condemnation was meticulously pre-planned and executed in secrecy by Tiger terrorists who had disguised themselves as Muslim prayers and entered famous Meera Jumma and Husseinia mosques in the evening when hundreds of devotees were attending Friday Isha prayers. As hundreds of Muslims knelt in prayer at that critical hour in both mosques, situated in close proximity to each other, those disguised terrorists suddenly went on spraying automatic fire and hurling hand grenades at the worshippers killing most of them on spot. But the final death toll including who succumbed to death in hospitals was about 147 Muslims
Similarly, on 11th August 1990, just eight days after the Kattankudy massacre, terrorists carried out a similar barbaric bloodbath, attacking a Muslim village in nearby Eravur. The Eravur village massacre, to the horror of the civilized world claimed the lives of some 173 innocent Muslims including infants and women. A special prayer session will mark the commemoration.