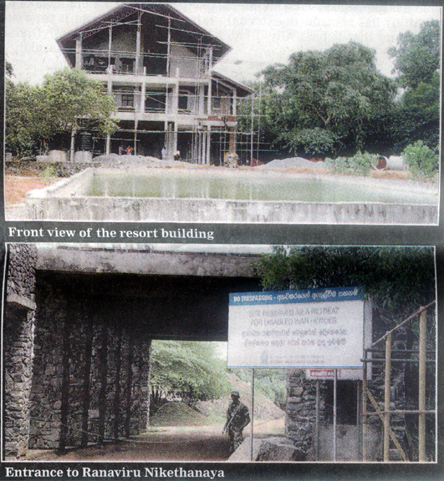 RANAVIRU NIKETHANAYA- BIRDSONG TO REPLACE THE SIZZLE OF BULLETS
WHEN the victorious flickers of oil lamps danced on every doorstep in celebration of the unmatched war victory, the heroes who re-hoisted the Lion flag in the four corners of the country, were remembered, loved and saluted by every Sri Lankan.
Those who risked death in the name of the nation have their names already carved on pillars of history and in the memories of many Lankans. But, those who survived to tell their experiences deserve that same love, attention and respect, because they are the living monuments of the victory. The sight of their lost limbs will tell you how much you owe them.
Heroes do not need sympathy, even at a time when they fight their second half of the battle with the odds and ends of life while living in decline. They need care, respect and attention – a call that is extended to every citizen of this country. At a time when Sri Lanka is endeavouring to rise from the ashes of the thirty-year-old war against terrorism, the well-being of our war heroes has become a top most priority in the 'to-do' lists of the government, corporate sector and the general public.
Architect of Ranaviru Nikethanaya
Ranaviru Nikethanaya, a brain child of Defence Secretary Gotabhaya Rajapaksa makes history as the first healing resort for war heroes built in South Asia. Away from the busy hubbub of Colombo, bordering the Attidiya Bird Sanctuary, Ranaviru Nikethanaya, the war heroes' resort that is being constructed by more than a two hundred strong workforce of soldiers, is getting ready to house the first batch of disabled soldiers within the next couple of months.
Unfurled in a land area of 46 acres, surrounded by a stream with mangroves providing refuge to flocks of migrating birds from far corners of the world, this is a heavenly sanctuary to any soldier who sacrificed so much in the protection of the country and its people.
The resort will initially house thirty soldiers who had become permanently disabled in the war. "We are hoping to expand into a chain of resorts. This is only the beginning," says the project supervisor of Ranaviru Nikethanaya, Major Koshal Weerasinghe. The project was initiated in August last year with the prime aim of providing homely comforts to more than two hundred soldiers who were wounded and rendered physically disabled and mentally affected in war. While preserving its natural surroundings and habitats, the resort gives priority to independence and individual space, some of the disabled soldiers would like to have. The core idea of the resort is to make them forget the war and the trepidations it brought them. These unfortunates still suffer in the vice of a war mentality. In providing care and attention, the responses and the preferences of the inmates will be respected and taken into careful consideration as some of the soldiers would like kind support to handle their disabilities while others may prefer to stay independent despite their handicaps.
A resort not a hospital
Expressing his views on the disabled war heroes, Major Weerasinghe said,
"This is not going to be a work of just a day. With constant care and attention, we would like to make them feel that they are ever so special to us and that they would never grow less important in our eyes. Sri Lanka has more than ten thousand disabled soldiers. Some of them are in hospitals. A hospital is not a place where one can stay forever. So, what will become of them after that? This is where the concept of a resort becomes an attractive alternative."
According to Major Weerasinghe the number of disabled soldiers who are currently being taken care of by their families might be faced with numerous issues when time goes by. Major Weerasinghe said that some of those who provide that care may be even aged parents who cannot take care of themselves let alone their wounded children. Single (unmarried) but disabled soldiers may opt to stay with their siblings, but those arrangements may not always work right.
"Even in a perfect home environment the care of an experienced professional hand cannot be matched by a family member. There are instances where we understood that their level of disability is so acute that the care of an ordinary person is not sufficient to meet their needs," Major Weerasinghe revealed. According to him, the issues regarding the disabled soldiers will worsen in the years to come. "Those who were in their prime when they were injured will try to get back on track, but the real battle for them starts only when they fail owing to physical disabilities. For instance, shards of metal–footnotes of the wartime woes–embedded in their bodies, will cause them pain only when they become middle aged. For them, the real battle starts only then."
The facilities at Ranaviru Nikethanaya
Ranaviru Nikethanaya is one such place that will gift them back a little portion of peace and tranquility they won for Sri Lanka no longer than a year ago. Every inmate of the resort will have an air-conditioned room equipped with an LCD television, DVD player, mini refrigerator, a micro-wave oven and internet facilities.
The three-storey building complex will consist of a library, a massive dining area which can house more than two hundred heads, a fully-fledged kitchen, laundry and physiotherapy unit. The lobby area, overlooking the lush and silvery waters, is specially designed to bring in the soothing breeze that precipitates conditions to relax mind, body and soul. The bed rooms have been built for twin-style occupation and will be connected to a common bathroom and mini-pantry area. In designing bathrooms too, special features like shower seats, easy-to-use taps and shower equipment are used in order to provide the maximum comfort and free and easy movement to the users.
Every window will give a peaceful view of the stream, blue skies and birds in countless numbers visiting the bird sanctuary throughout the year.
A quick look around makes one feel that nature has given up its unspoilt best away from the busy city of Colombo to our war heroes who had made painful sacrifices on behalf of Sri Lanka
Funding
"Figures cannot do justice to the efforts made by everyone who is part and parcel of the mission," Major General Palitha Fernando who was in charge of the project told Daily Mirror when asked about the cost and expenses of the scheme. "For one thing, the cost of labour, which is being provided by the army engineering units, is counted as free of charge. And, I think that their toil and trouble are well beyond monetary estimation," he observed.
True enough, the untiring fifty odd army cadres, running up and down in the beehive of activity at the construction site was a spectacle worth seeing. Six and half-a-days a week from morning till dusk, they work hard to give the final touches to the place that stands tall in the retreat of a sanctuary.
The donors
Implemented as a stand-alone project, Ranaviru Nikethanaya was funded by the donors from the corporate sector and non-governmental organizations.
"When we started off, 'Api Wenuwen Api'(AWA) was getting a good response. So, we did not want to confuse the people with our fund-raising ventures," said Major Weerasinghe. "Besides, this is not a project where we accept anything and everything that come our way. An ordinary person may donate one hundred rupees to AWA, but the weight of this project automatically excludes such donations. We need considerably large contributions that can be put into use at once. And this is the main reason why we didn't want to take to the streets with tills in our hands," added Major Weerasinghe.
According to him, while there were quite a number of anonymous donors and Sri Lankan expatriates who extended monetary assistance, there were numerous private sector organizations that came forward to provide building material and electrical appliances at discounted rates or even free of charge. Also, in selecting materials for construction work, emphasis is laid on standardization. "Assigning standards may be like closing the door of easy escape. But, all we want is to give them the best of everything, be it a simple bath or a luxury movie experience," explained Maj. Gen. Fernando.
Selecting inmates
When asked about the criteria of selecting the inmates, Maj. Gen. Fernando said that the process would be based on their level of disability and the amount of support currently available to them. "Their level of disability will be assessed by a medical team through a series of medical examinations. As for the support, priority will be given to those who do not have families or their families are not in a position to look after them." Elaborating on the caretaking effort, Maj. Gen. Fernando added that once they become the inmates of the resort, army soldiers will be assigned to each of them for the purpose of keeping them company, looking into their needs and to simply be there for them to share their worries and be in emotional support.
"This is more like a lifetime fraternity that ends only on the deathbed because we understood that they deserve something much better than mere caretaking," stressed Maj. Gen. Fernando.
No showcasing
Visiting war heroes has been a habit of the people ever since the army wards of the hospitals were filled with soldiers who were wounded in the battlefields. The folks would get together and visit them to distribute gifts and spend a day talking to them. According to Maj. Gen. Fernando, Ranaviru Nikethanaya would break that tradition by allowing only a limited number of visitors to see its inmates. At the inception, only the members of the family or closest relatives will be given the opportunity to call on them. "The main thing we should understand is that the disabled soldiers are there for relaxation and not for exhibition. We should respect their privacy and dignity. The purpose of providing all these comforts is to help them come out of their past traumas and harsh experiences. No doubt, it is a time consuming process. So I think, they shouldn't be unduly disturbed," he told Daily Mirror.
What the future holds
"Once the construction work of the avenues is finished, it will be a two-and-half-hour stroll on a wheelchair," said Major Weerasinghe pointing out roads and a stream running around the resort. Speaking further on the surroundings, he said that they were particular about not disturbing the gifts of nature–the mangroves and the habitats of birds. After the completion of the building, the swimming pool will be their next target. The pool, which will become an essential feature once the services of a physiotherapist is available, will make the resort complex complete. Major Weerasinghe also revealed his plans in building a tennis court in the courtyard for wheelchair tennis players and a complex with supplementary rooms for the use of visitors who wish to spend a few days with the inmates.
Ranaviru Nikethanaya once complete, will have every essence of freedom and tranquility its inmates fought for and won for Sri Lanka. Ranaviru Nikethanaya is one place where nature is waiting to offer her utmost to those who deserve it the most. (Courtesy : Daily Mirror)