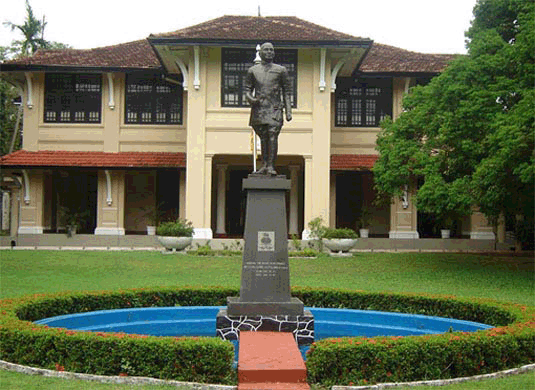 THE General Sir John Kotelawala Defence Academy was established in 1981 and elevated to a University in 1986. More than 1,600 undergraduate and 140 postgraduate degrees have been awarded by General Sir John Kotelawala Defence University (KDU) during the past 28 years. KDU offers nine undergraduate degree programs in Defence Studies and related Post Graduate Degrees. Among them, five degree programs lead to Bachelor of Science (B.Sc.) in Engineering, namely Mechanical, Marine, Electrical and Electronic, Civil and Aeronautical Engineering.
This is the only university in Sri Lanka offering Bachelor of Science Degrees in Marine and Aeronautical Engineering. The remaining three undergraduate defence study programs consist of Bachelor of Science in Management and Technical Sciences (MTS), Bachelor of Arts (B.A) and Bachelor of Commerce (B.Com). In addition, 25 cadets are following the MBBS Degree at University of Ruhuna, and will join their counterparts when its own Medical Faculty is established by KDU at Ratmalana.
The Post Graduate Degree program offers Master of Science, (Defence Studies) in Management for middle and senor level Service and Police officers. While the cadets following engineering degrees study at KDU for three consecutive years and spend six to 12 months in their respective academies (Diyathalawa, Trincomalee, Welisara, Katunayake and Ratmalana) the others spend two years at KDU and one year in their respective military academies.
The past
The KDU completes 28 years of dedicated service to Mother Lanka. It was first established as a result of the requests made by the commanders of Three Armed Forces to set up such an institute for the young officers. Subsequently, a study team visited the Indian National Defence Academy and the Indian Naval Academy, and proposed setting up a Defence Academy of similar structure in Sri Lanka. The need for a suitable location to house the Academy was expressed to the third prime Minister of Sri Lanka, General Sir John Kotelawala by the then Army Commander.
Major General JED Perera. Sir John Kotelawala willingly donated his Kandawala estate of 48 areas at Ratmalana, 12 kilometres from Colombo. This donation paved the way to establish the academy which was ceremonially opened by the then President J.R. Jayewardene on the Army day of October 11, 1980, and was named as General Sir John Kotelawala Defence Academy (KDA).
The first batch of cadets was enlisted to KDU in March 1981, where Col CAMN Silva was appointed the founder commandant. The admission and academic program for the initial three intakes were supervised by the then University Grants Commission Chairman, Prof. Stanley Kalpage and the Vice Chancellors of Colombo and Moratuwa Universities, Professors Stanley Wijesundara and C. Patuvatawithana, respectively.
The first intake consisted of 34 cadets where 13 attended the B.Sc. Degree Program in Physical Science at the Colombo University while the balance followed the B.Sc. Engineering Degree program at Moratuwa University. In 1985, for the first time KDA advertised for the enlistment of Service Cadets to follow its Defence Studies Degree Programs where Part I was conducted at KDA.
The cadets proceeded to their respective service academies to undergo the Part II of the training in the second year and returned to KDA to complete the final component of Part III. In 1986, the KDA was elevated to University status enabling it to confer Degrees in Defence Studies to officer cadets who successfully complete the program and the first convocation was held in 1991. In 1996, KDA obtained the membership of the Association of Commonwealth Universities (UK) by maintaining standards required for educating and grooming officer cadets to meet the challenges of modern defence management.
KDU enlisted two cadets form Bangladesh in year 2000 paving its way for international recognition. Thereafter, many cadets from SAARC countries were enlisted. Another milestone was achieved in 2001, when the university initiated the Master of Science (Defence Studies) Degree in Management for middle and senior level Service and Police officers. Even though the academy was elevated to university status in 1986, the name remained as General Sir Kotelawala Defence Academy. The ceremonial renaming of the academy to General Sir John Kotelawala Defence University took place on October 11, 2007 by President Mahinda Rajapaksa.
Admission
Sri Lankan citizens between the age of 18 to 22 are admitted to KDU according to the eligibility criteria for university admission by the Commissioner General of Examination and fulfilling the requirements of at least an 'S' grade for all three approved subjects in GCE (A/L) examination, a pass in the common eligibility test for University admission and a minimum of a Credit Pass in English at the G.C.E (O/L) Examination.
In addition, they should possess minimum physical standards in height, weight and chest, and show the required levels of physical and mental stamina. The entry requirements and other details are advertised in national newspapers, gazette as well as appear in the KDU web site www.kdu.ac.lk. A new batch of cadets is enlisted to KDU during the third quarter of each year.
During the initial four months cadets undergo an intensive course in English and a rigorous military orientation phase. They are provided with free uniforms, spacious housing and food in addition to a considerable living allowance during the undergraduate time. This year (intake 27) 195 cadets were enlisted, which was the highest number admitted to a single batch during the history of KDU.
The writer is Director, Academic Studies, General Sir John Kotelawala Defence University, Ratmalana (Courtesy :Dailynews)