The novel 'House Construction' project at all regimental levels for families of fallen War Heroes and differently able soldiers which saw its birth as a conceptual notion of the Commander of the Army, Lieutenant General Crisanthe De Silva, is fast nearing completion by fourth week of September, 2015.
To be in line with the Commander's noble visionary project, 18 Regiments swiftly jumped into action and began construction of 35 new houses in recipients' own land slots, made available by two of selected beneficiaries from each respective regiment for erection under the Phase 1 of the project.
This new initiative came into effect after the Commander closely observed and evaluated the need for proper and decent housing facilities for family members of fallen War Heroes and differently able ones, who have rendered an invaluable service to the country as true patriotic sons of Sri Lanka during the war for peace before 2009.
The Phase II of this new housing project will commence, giving priority to the next segment of relatives and differently able War Heroes, latest by end of October, 2015.
Under the Phase I, relatives of fallen War Heroes and injured War Heroes from Sri Lanka Armoured Corps (SLAC), Sri Lanka Artillery (SLA), Sri Lanka Engineers (SLE), Sri Lanka Signal Corps (SLSC), Sri Lanka Light Infantry (SLLI), Sri Lanka Sinha Regiment (SLSR), Gemunu Watch (GW), Gajaba Regiment (GR), Vijayabahu Infantry Regiment (VIR), Mechanized Infantry Regiment (MIR), Commando Regiment (CR), Special Forces (SF), Military Intelligence Corps (MIC), Sri Lanka Army Service Corps (SLASC), Sri Lanka Army Medical Corps (SLAMC), Sri Lanka Army General Service Corps (SLAGSC), Sri Lanka National Guard (SLNG) and Sri Lanka Army Women's Corps (SLAWC), were among the beneficiaries under this new scheme, initiated by the Commander.
The Regimental housing project is coordinated by the Directorate of Welfare.
Following photos depict several houses thus completed;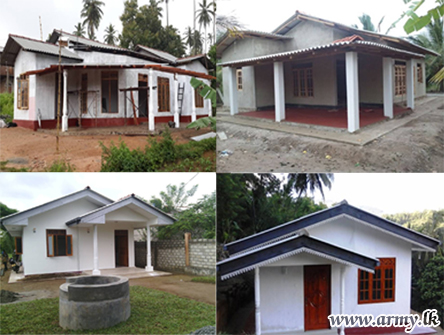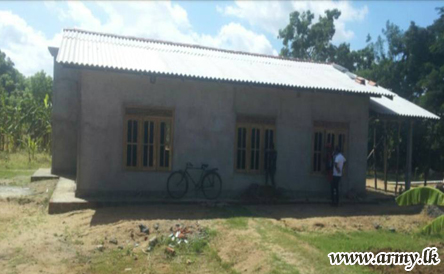 S/106857 Lance Corporal Somasiri KV (KIA) - 6 SLAC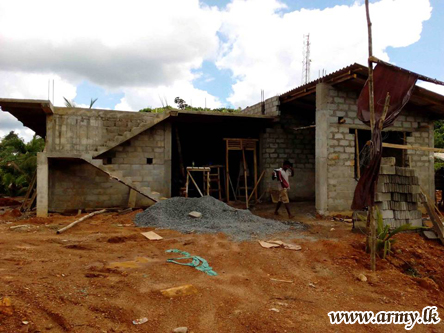 S/105050 Corporal Priyantha PAJ (KIA) - 3 SLAC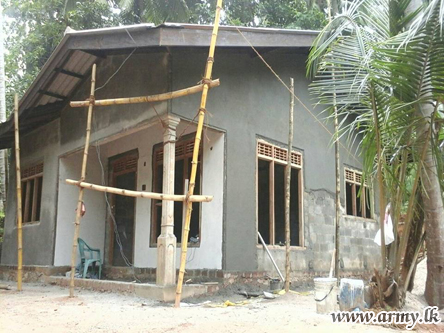 S/5A01999 Lance Bombardier Kusumsiri Senanayake ST (KIA) - 5 (V) SLA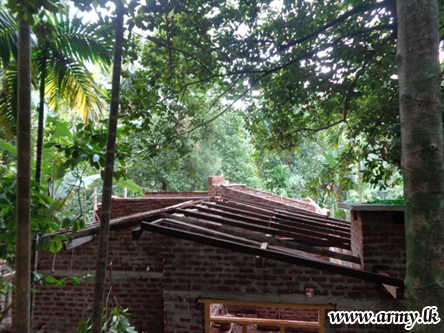 S/158426 Bombardier Chandrasena EDDK (DISABLE) - 6 SLA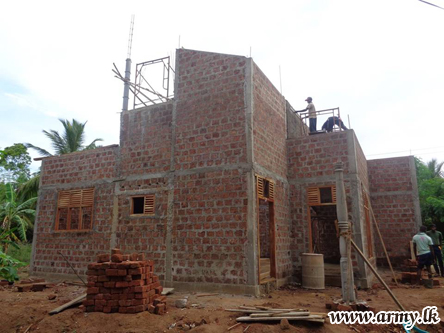 S/239650 Sergeant Pushpakumara AAI (KIA) - 5 SLE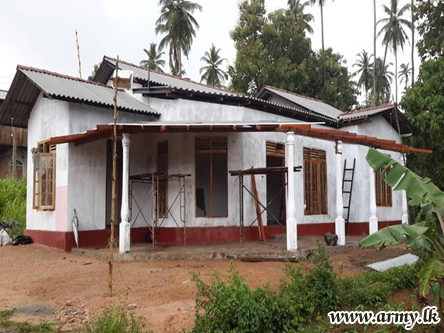 S/235776 Corporal Kumara Kaldera HPL (KIA) - 5 SLE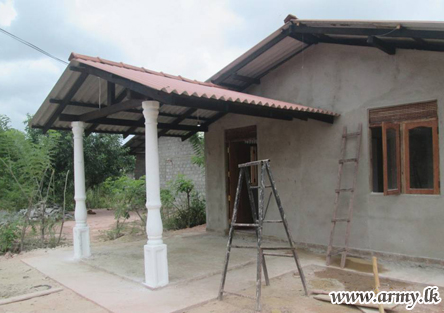 S/277120 Sergeant Gunawardana PR (KIA) - 5 SLSC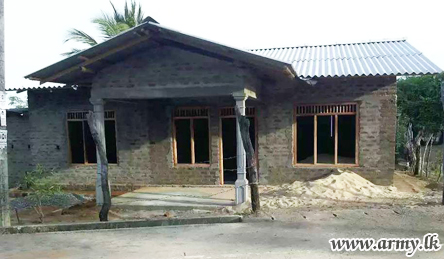 S/281906 Signalmen Chathuranga EMK (DISABLE ) - 7 SLSC
S/306454 Sergeant Dehigolla DGP (KIA) - 12 SLLI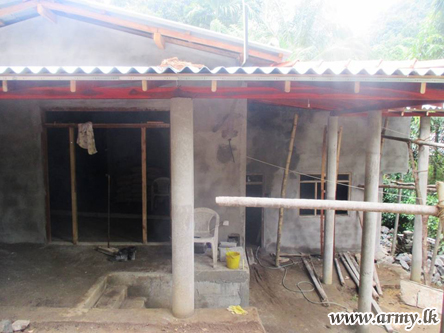 S/17D00162 Lance Corporal Sunil S (DISABLE) - 17 (V) SLLI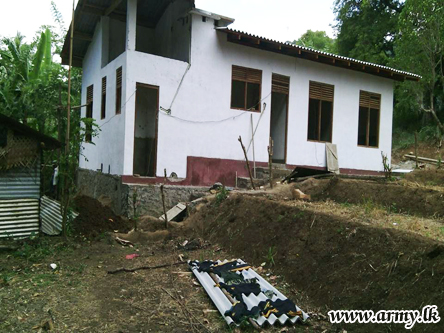 S/365814 Lance Corporal Daluwaththa DGSK (KIA) - 4 SLSR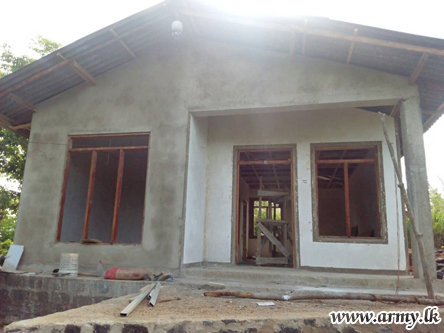 S/372941 Lance Corporal Chandrasena APW (DISABLE) - 16 SLSR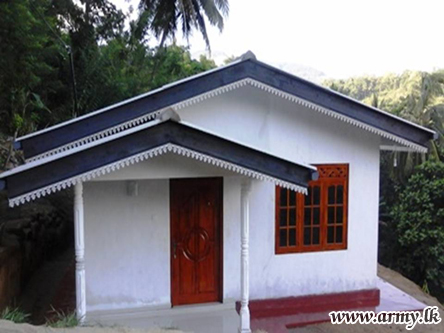 S/410704 Sergeant Abesingha Banda RM (KIA) - 11 GW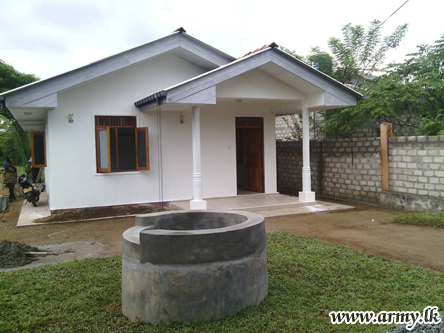 S/415890 Lance Corporal Saman ID (KIA) - 4 GW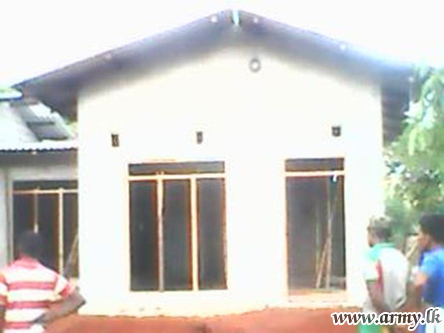 S/461255 Sergeant Ariyadasa AUH (KIA) - 3 GR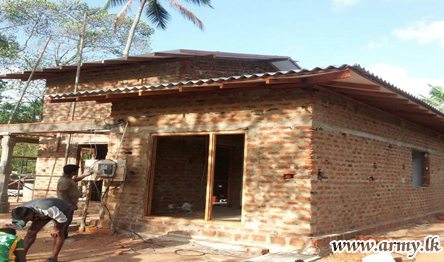 S/11G00784 Private Sugath Prema JA (DISABLE) - 11 GR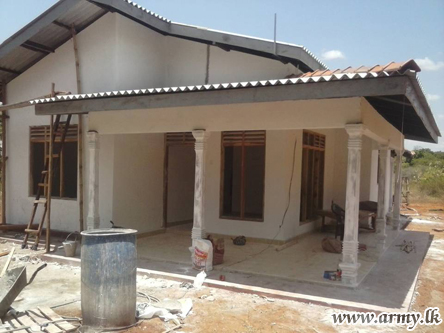 S/520380 Corporal Dabarera WB RSP (DISABLE) - 9 VIR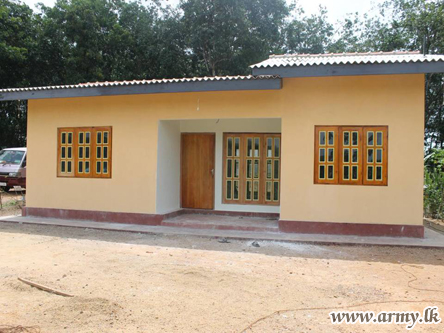 S/193670 Lance Corporal Priyantha Kumara RM (KIA) - 4 VIR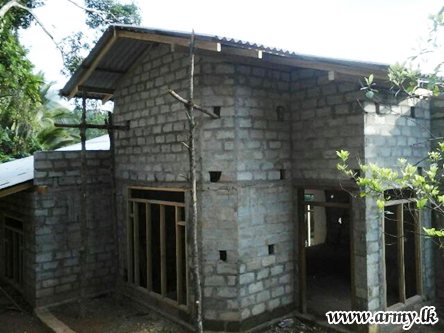 S/826752 Corporal Priyanjith DES (KIA) - 1 MIR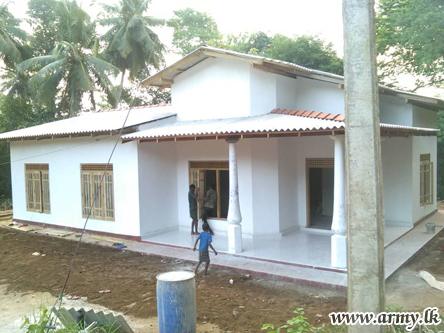 S/826923 Private Bandara TMA (DISABLE) - 3 MIR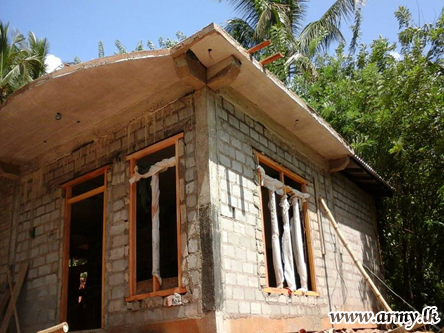 S/552496 Lance Corporal Disanayake DMPK (KIA) - 2 CR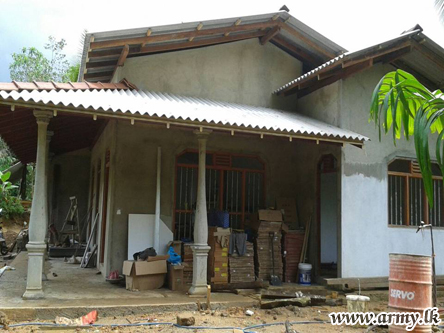 S/553940 Corporal Dinesh BLS RSP (DISABLE) - 2 CR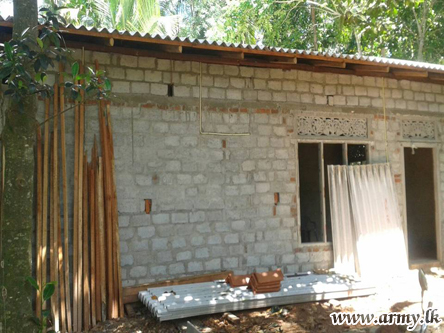 S/512397 Sergeant Upul VG (KIA) - 2 SF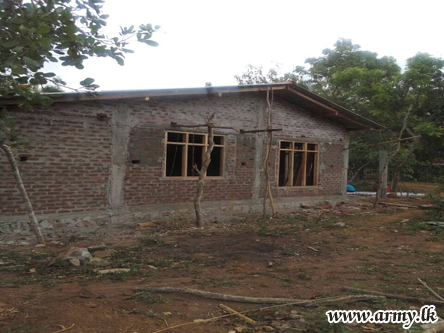 S/470209 Corporal Gunarathna KGDMAW (KIA) - 1 SF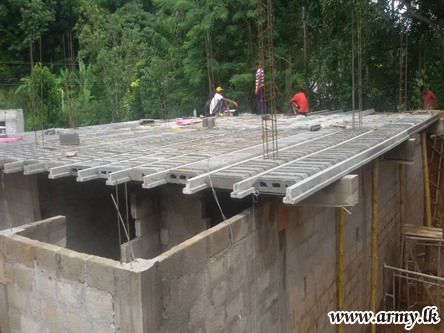 S/775355 Sergeant Fernando HKK (KIA) - 1 MIC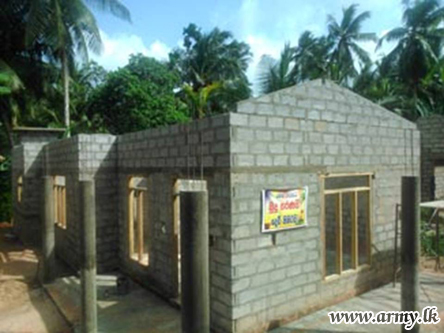 S/3U00058 Corporal Chaminda Senavirathna TB (KIA) - 3 (V) MIC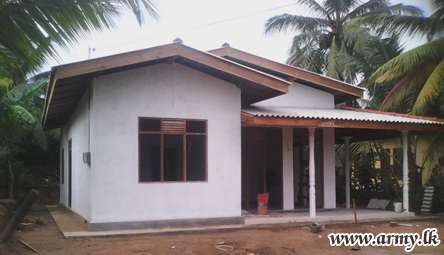 S/82343 Sergeant Sumathipala W (KIA) - 3 SLASC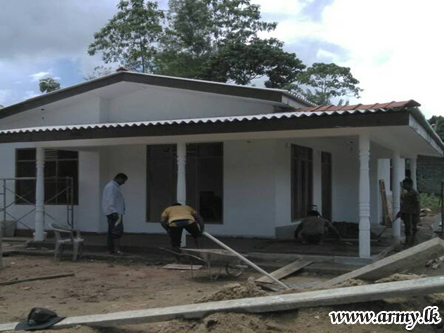 S/576312 Lance Corporal Ajith BG (KIA) - 4 SLASC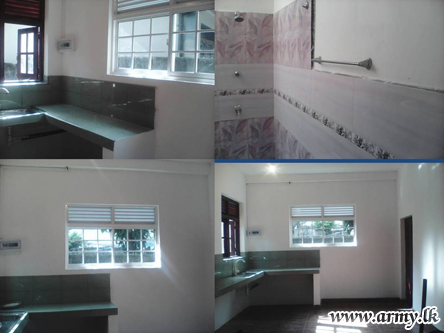 S/85576 Corporal Gunarathna KDP (DISABLE) - 3 SLAMC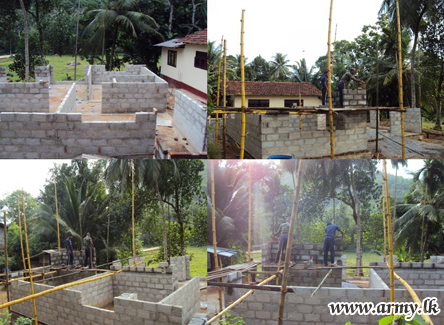 S/2L00496 Lance Corporal Ranaweera RKMCS (KIA) - 2 (V) SLAMC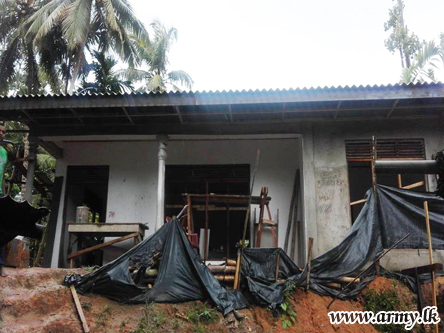 S/700604 Lance Corporal Senavirathna TB (KIA) - 1 SLAGSC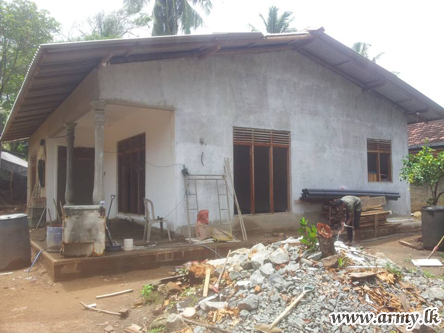 S/94433 Private Hewavitharana PSP (KIA) - 1 SLAGSC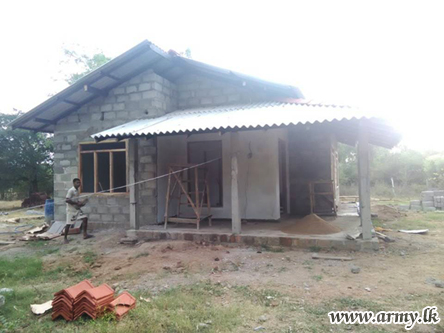 S/19Q00417 Lance Corporal Priyantha Bandara AM (DISABLE) - 19 SLNG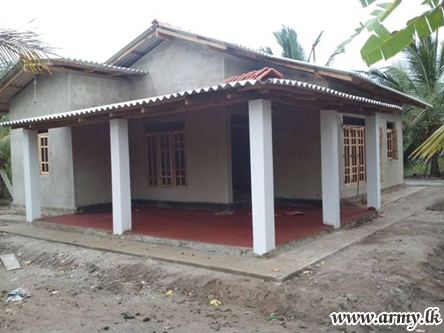 S/6Q01917 Lance Corporal Sunil Kumara KP (DISABLE) - 6 SLNG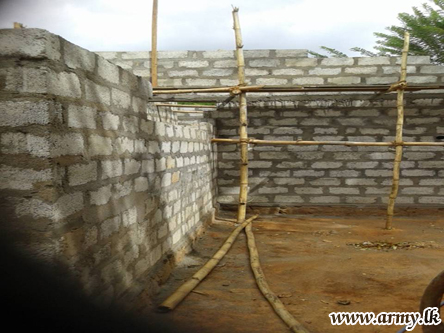 S/2R01329 Lance Corporal Rathnayake RMTK (KIA) - 2 (V) SLAWC