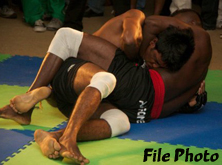 Over 100 youngsters and school students in Jaffna showing an enormous interest and enthusiasm on Monday (30), took part in a special workshop on 'Wrestling', coordinated and organized by the Army Wrestling Committee under the supervision of the Army Directorate of Sports.
The programme, aimed at improving this particular sport among Jaffna youth took place at Jaffna Duraiappa Indoor Stadium and several schools have sent their students for the training workshop, held throughout the day.
Directorate of Army Sports expects to further promote these types of awareness and training programmes in the future, too.