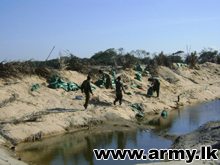 MULLAITTIVU & EAST: TROOPS, engaged in the final phase of the battle to eliminate LTTE terrorism confronted terrorists in PUTHUKKUDIYIRUPPU area and captured another earth bund built by the terrorists in KARIYAMULLIVIKAI on Friday (27).

In search operations that followed, six dead bodies of terrorists, seven T - 56 weapons , three communication sets, one mortar, one General Purpose Machine Gun (GPMG), one motor cycle, one boat , one 60 mm mortar base plate and four hand grenades were recovered by the troops from those areas.

Meanwhile, troops engaged in search and clear operations recovered one shot gun, six hand grenades, five anti personnel mines, six SG ammunition cartridges, one T- 56 magazine from KUDAKALMUNAI area on Friday (27).

In the meantime, a member of the Civil Defence Force sustained injuries due to an anti personnel mine explosion in WELIKANDA, POLONNARUWA on the same day. He was taken to the nearest hospital for treatment.