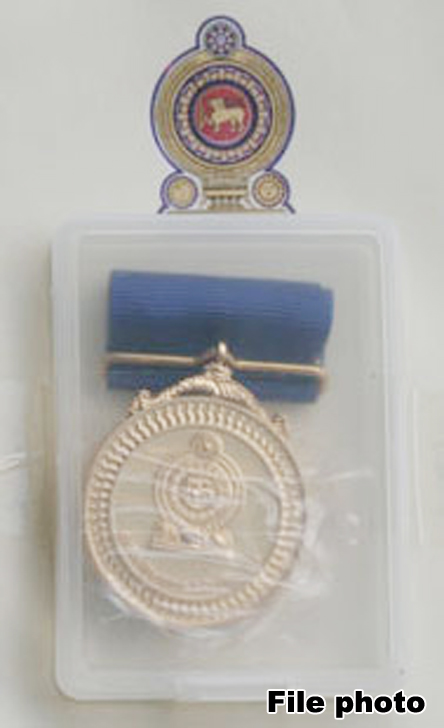 The 'Uththama Pooja Pranama Padakkama' (UPPP), the specially designed medal, in recognition of the supreme sacrifice made by War Heroes, was delivered to their next of kin on Thursday (14), during a special ceremony at Panagoda Army Cantonment.
Spouses, parents and next of kin of 2672 fallen War Heroes, in that dignified ceremony, graced by Mr Gotabaya Rajapaksa, Secretary Defence as Chief Guest on the invitation of the Rana Viru Seva Authority, saw their beloved sons and daughters and their acts of gallantry were once again highly appreciated and honoured awarding the prestigious UPPP (medal), recommended by none other than HE the President Mahinda Rajapaksa himself, as Commander-in-Chief of the Armed Forces.
The rare and dignified spectacle that invited widowed spouses, those likes of Lieutenant General Denzil Kobbekaduwa, Vice Admiral Clancy Fernando, Major General Wijaya Wimalarathne, Major General Angammana, Brigadier Hamangoda and a host of other widows and parents, offered a fitting tribute to the memory of those valiant tri-service and Police warriors who made the supreme sacrifice for defence of the country's unitary status and the sovereignty against LTTE terrorism.
The 'Uththama Pooja Pranama Padakkama' (UPPP), was made a reality on the recommendations of the Ministry of Defence through an extraordinary Gazette of the Democratic Socialist Republic of Sri Lanka, No. 1662/38 issued on 16th July 2010.
Mr. Gotabaya Rajapaksa at the entrance to the venue was warmly welcomed by Mrs. Padma Weththewa, Chairperson, Ranaviru Seva Authority and conducted him and other guests to the venue of the ceremony. The colourfully decorated main stage had Army, Navy, Air Force and Police flags in the background, depicting different service Regiments and Units. The ceremony began after honouring the Nation with the national anthem.

Mr Rajapaksa addressing the gathering recalled his yesteryear memories in the Army when he served under the able leadership of veterans like Major General Wijaya Wimalarathne and Lieutenant General Denzil Kobbekaduwa.
Mr Rajapaksa, in his moving and touching speech to the occasion considered his presence to award those honours to both spouses of his two senior war veterans who had been a guiding light for his military career as a special honour bestowed on him. 'I consider it a rare privilege and an exceptional honour, awarded to me for presentation of these honours to the wives of those two legendary War Heroes', he said.
Mr Rajapaksa also did not forget to go down the memory lane, refreshing his cherished memories and wealth of experience with veterans like Lieutenant General Kobbekaduwa and Major General Wimalarathne for the success of the famous Vadamarachchi operation in the contemporary history.
He also added that the entire country should remain grateful to those fallen War Heroes and in particular to the members of their families for allowing those beloved ones into the battlefield, irrespective of their concerns at personal level.
Mrs Laly Kobbekaduwa, Mrs Wijaya Wimalarathne, Mrs Clancy Fernando, Mrs Angammana, and Mrs Hamangoda were among the first few recipients of the UPPP during this dignified ceremony. Mr Rajapaksa after award of those medals took time off to meet and share a couple of thoughts with Mrs Kobbekaduwa, Mrs Wimalarathne and a few other spouses and parents.
Major General (Retd) Palitha Fernando, former Chairman, Ranaviru Seva Authority and the Military Liaison Officer at Ministry of Defence, Additional Secretary (Technical) Mr B K U A Wickramasingha, Major General S W L Dawulagala, Security Forces Commander South and a large gathering of Army, Navy, Air Force and Police officers took part in the special award ceremony.