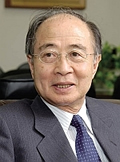 JAPANESE special envoy Yasushi Akashi who paid a visit to the Internally Displaced People's welfare villages at Settikulam, Vavuniya yesterday (9), expressed his satisfaction at the welfare facilities provided to the IDPs.
He commented that much progress had been made in the development of facilities to the IDPs in the welfare villages, District Secretary Vavuniya Charles told the Daily News yesterday.
Profile
Yasushi Akashi , a former UN Under Secretary General on Humanitarian Affairs was appointed Special Representative to Peace Building, Rehabilitation and Reconstruction by the Japanese Government in 2002.

He has visited Sri Lanka for 18 times to evaluate the situation in Sri Lanka and look into the areas where Japan could extend her assistance.

Akashi also had expressed his appreciation of the efforts made by President Mahinda Rajapaksa and the senior officials who had paid attention to details of the needs of the IDPs. Their condition had improved since his last visit here, he said.
He had also said Japan and other nations would help the effort to resettle the IDPs in their original places of residence and till the last IDP was settled, they would continue to help Sri Lanka in its efforts at bringing back normality to the people of the north.
The Government's effort was to complete resettlement of the displaced civilians of the north within 180 days and Akashi had expressed willingness of the Japanese Government to assist in the de-mining process so that civilians would be safe to return to their native places, she said.
Resettlement and Disaster Relief Services Minister Rishard Bathiudeen. Competent Authority Maj Gen G. A. Chandrasiri and other senior officials accompanied Akashi on his visit to the north.
Akashi also visited the Ambepussa Rehabilitation Centre where former LTTE cadres are being rehabilitated and had expressed his satisfaction at the progress being made by the authorities at the centre.
The Japanese special envoy will meet President Rajapaksa, Prime Minister Ratnasiri Wickramanayaka, Foreign Minister Rohitha Bogollagama , ministers and UN officials in Colombo. (Courtesy: Daily News)