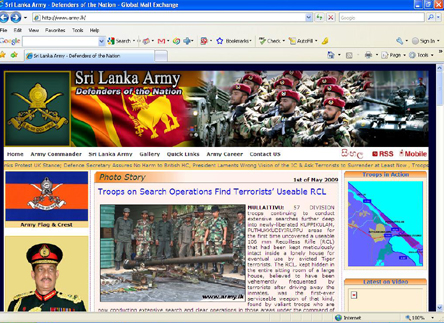 ARMY intelligence has launched an extensive investigation on the LTTE's intrusion over the Sri Lanka Army's official website (www.army.lk), according to Military Spokesman Brigadier Udaya Nanayakkara.
The Sri Lanka Army Website was hacked and technically `assassinated' by suspected Tiger terrorists or their proxies, during the wee hours on Friday, May 1, by inserting some gruesome images.
However, Sri Lanka Army experts successfully restored their hacked website in a couple of hours.
Brigadier Nanayakkara told the Sunday Observer that the alleged LTTE intrusion into the Army website had taken place from abroad but the Army swiftly thwarted the malicious attempt and put the web back on track.
"Now the readership could reach our site as usual." We are heartened to receive the flood of inquiries being directed to us since the moment 'web terrorists' made the intrusion, Brigadier Nanayakkara said.
The Sri Lanka Army Web is now back in order as usual on www.army.lk.
The spokesman said this new form of information 'terrorism' is a criminal offence that can be subjected to prosecution, according to international legal provisions.
(Courtesy: Sunday Observer)