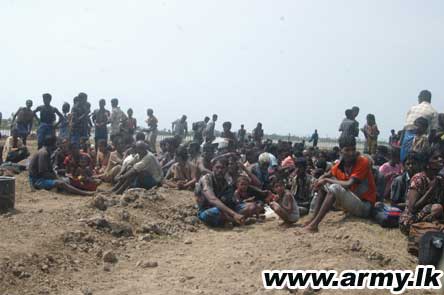 MULLAITTIVU: THE FINAL massive exodus of civilians into government-held cleared areas from the remaining New Safety Zone areas was fast swelling in the past two hours as more than 5,000 – 10,000 escapees have already lined up from a distance to entire government held areas.
As the clock struck 5.00 p.m. Friday (15) evening (local time) KARAYANMULLIVAIKKAI troops screened 1405 civilians and took them in after they crossed NANTHI KADAL lagoon, adjacent to the New Safe Zone through the new opening made by the troops on Thursday (14).
Similarly, a massive crowd of about 10,000 escapees, lined up in the 53 Division - held VELLAMULLAVAIKKAL area are being now screened and subsequently facilitated by the troops, as this report was filed to the www.army.lk. The sudden explosion of this exodus is reflective of the desperate developments in the remaining Tiger - held area which is almost reaching the zero – point each hour.