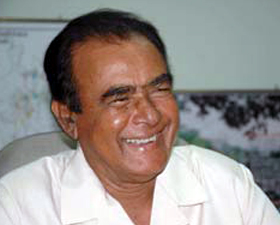 PRIME Minister D.M. Jayaratne yesterday said in Parliament that the Government has received information from Intelligence Units that several LTTE cadres who escaped from the North were now operating with underworld groups in main cities.
Moving a motion seeking the extension of the state of emergency by another one month, the Prime Minister said the LTTE cadres are engaged in earning money through clandestine operations of Southern under world elements to rebuild the destroyed image of the LTTE organisation.
Further, the international network of the LTTE has arranged funds and other facilities for these remaining cadres.
A large number of firearms utilised by the LTTE had been smuggled into the Southern Province and there is a danger of these weapons being transferred to the hands of those being re-settled in the North and the East, he said.
Existing LTTE leaders have not given up their dream of winning a separate land. This was clearly manifested when they hoisted the LTTE flag at Philadelphia in the US during a session on forming a transnational Government of Tamil Eelam from May 17 to 19. One of the topics discussed during this session was the action needed to resurrect the LTTE dreamland in Sri Lanka, the Prime Minister said.
"The Government has received information of LTTE funding to build several condominiums for Tamils in Colombo. The security forces are investigating this and further apprehensions would be made in the near future," he said.
A large number of LTTE cadres have escaped from the North during the last of the humanitarian operations and they were given refuge by underworld members in the South.
He said the Government has sought assistance to arrest this developing threat against the sovereignty of Sri Lanka. A large number of countries and nations have responded positively. India has further extended the ban on LTTE. Several other countries have pledged to the Lankan Government through diplomatic channels that they would not allow the LTTE to operate in those countries. The French Government has investigated into a killing of a person by some Tamil persons and identified that LTTE cadres had committed this crime.
The Prime Minister said people were enjoying the freedom gained by the defeat of terrorism and this was witnessed by the people coming to the city during the Vesak festival, the new year festival and the successful conduct of IIFA awards ceremony in Colombo.
"The security forces were still engaged in anti-terrorists activities to consolidate the freedom achieved through great sacrifices", he said. During the last month, 77 LTTE cadres were arrested. Among the civilians who sought security forces refuge were 198 child soldiers and another 159 cadres. "We will not continue with emergency regulations forever", he said.
Several emergency regulations will be relaxed soon as the Government did several weeks ago.
(Courtesy: Daily News)