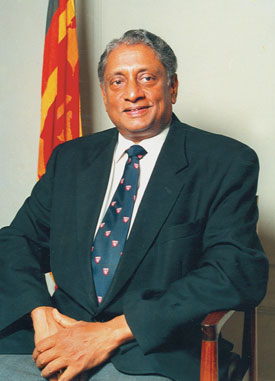 THE 4th death anniversary of a great son of Sri Lanka late Foreign Minister Mr. Lakshman Kadirgamar falls on 12th August. He was killed by a sniper bullet of an LTTE terrorist at his residence in Colombo 7 on the night of 12th August 2005. He stood firmly against LTTE terrorism and remained committed to a united Sri Lanka without fearing all the threats, posed by Tiger terrorists against him.

Mr. Lakshman Kadirgamar, the exemplary statesman par excellence tirelessly undertook the task of combating the world's most ruthless terrorist organization as the Minister of Foreign Affairs in Sri Lanka by unmasking gruesome atrocities perpetrated by Tiger terrorists on their own community both here and abroad. The terrorists killed this 73-year-old statesman because he exposed the atrocities of the so-called "liberators" of the Tamil people.

The whole world condemned the assassination of this Oxford-educated intellectual who was neither a military leader nor a war specialist. The country salutes this great son of Sri Lanka in the wake of the humiliating defeat the LTTE received at the hands of brave sons and daughters of Sri Lanka because he would have been one of the happiest man in the world who had firmly vocal against LTTE terrorism.