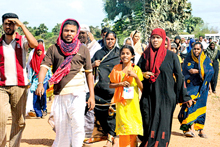 IN THE SECOND phase of the resettlement process the Government has resettled 442 families numbering 1,898 persons in Musali Divisional Secretariat Division in Mannar District last Friday.
Accordingly 94 Tamil fishing families numbering 347 persons displaced during 2007 from Kokkupadayan were resettled in their own places while 348 Muslim families numbering 1,551 persons who were forcibly evicted by the LTTE in 1990 from Pandaraweli, Weppankulam, Poonarachchikulam, Periya Pollachchi Paranthankeni, Puthuweli, Kulappankulam and Maithanweli villages in Musali Divisional Secretariat Division staying in the IDP camps in Puttalam were resettled in their own places.
The Government had already resettled 122 families numbering 409 persons in the Musali Divisional Secretariat Division while resettling 561 families numbering 2,120 persons in Arippu. Resettlement and Disaster Relief Services Minister Rishad Badiudeen speaking at the event to resettle the IDPs said that there are 34 families from Musali housed in Menik Farm Relief Village. Moves are in place to resettle them in their own places.
The three Armed Forces together with the Police have beefed up the security of the area to provide enough security to the people, who have returned to their own places.
Minister Badiudeen said that President Mahinda Rajapaksa and the Chairman of the Presidential Task Force on Northern Development, MP Basil Rajapaksa played a key role in resettling the IDPs.
Northern Province Governor Major General G.A. Chandrasiri said that already 3,000 IDPs have been resettled in Jaffna while 4,000 persons are being resettled in Eastern part of the country.
Troops are at present engaged in the de-mining process in Kattukkaraikulam area and soon after the completion of de-mining the IDPs in those areas will also be resettled, the Governor said.
He added that within two or three days of resettling the IDPs, a team operating under the District Secretary would undertake an inspection tour on recommencing the agricultural activities.
Mannar District Secretary Nicholas Pillai and senior officers from three Armed Forces and Police were also present.
(Courtesy: Sunday Observer)