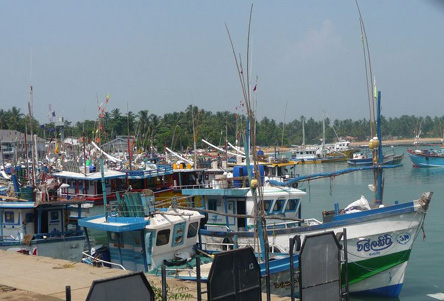 UNDER the advice of the President Mahinda Rajapaksa the Government has eased the restrictions imposed on fishing time yesterday.
As a result of the humanitarian mission to free the country from the LTTE clutches, the Government has decided to allow fishermen to fish during the whole day in the Eastern sea except the Trincomalee harbour area.
The Government's decision was conveyed to the fishermen in the East by Senior Advisor to the President, Parliamentarian Basil Rajapaksa yesterday. However, fishermen who use 'Teppan' are allowed to fish between 4 a.m. and 6 p.m. Parliamentarian Basil Rajapaksa said so when he met fishermen of the Muthur and Trincomalee areas.
Additionally, the 24 hour ban imposed on fishing in the Trincomalee harbour area has also been revised by the Government. Accordingly, fishermen are allowed to fish in the harbour area from 4 a.m. to 6 p.m.
However, boats which are used in the harbour area have to obtain the approval of the Navy.
Accordingly, the boats are singed and modified with using aluminum boards so as to be identified by the Navy radar.
After receiving Navy approval, the Government will take measures to settle the expenses through the Provincial Councils, Basil Rajapaksa, MP added.
"Discussions are under way to discontinue the current limitation of using certain out-boat engines. The Government in the future would probably allow the use of 25 HP outboard engines.
We are able to take all these measures since our brave Security Forces were able to eradicate LTTE terrorism" he added.
However, a security mechanism has to be setup when granting approval for fishing in the Trincomalee harbour area, Navy Commander Wasantha Karannagoda said.
Fisheries and Aquatic Resources Minister Felix Perera said that in the past two thirds of Sri Lanka's coastal area was not under Government control. Therefore, the Government had to import fish for $ 70 million. "With the recent victory there is no need to import fish spending millions of rupees" the Minister said. (Courtesy: Daily News)