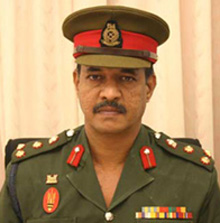 MORE THAN 5,000 army and the navy personnel who had deserted ranks before May 31 this year, have applied to receive an honourable discharge from service.
Military spokesman Udaya Nanayakkara said about 3,800 army other rank deserters had turned up since the offer was made on August 24.
"The programme is continuing successfully at regimental headquarters countrywide and will end on September 24," Brigadier Nanayakkara said adding that the paper work was being attended to for the discharge of deserters."
He requested the remaining deserters to use this opportunity to get their discharge papers as soon as possible.
Meanwhile, the Navy said some 1,917 sailors who had deserted ranks had turned themselves in since on September 10.
Navy acting spokesman M. Karunaratne said the programme of discharging them was being carried out sucessfully.
But the Air Force said servicemen, who had deserted ranks, were to be discharged in-absentia.
Air force spokesman Janaka Nanayakkara said the other rank deserters would be notified in writing to collect their certificates, once they were fully cleared of all liabilities,.
(Courtesy: Daily Mirror)