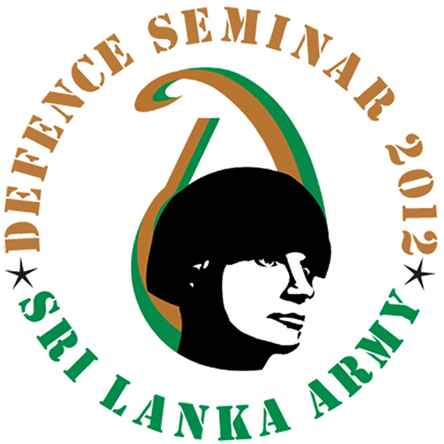 Discussions on Sri Lanka Army's overall contribution to the rehabilitation of some 11,000 plus misguided youngsters, brainwashed by LTTE, evoked enormous interest and curiosity among foreign delegates to the 'Defence Seminar - 2012,' since the world elsewhere, has not set a precedent of this magnitude in contemporary history.
Reaffirming the notion 'what you see is what you believe', all delegates had free access to all related state and Army authority during and on the sidelines of the sessions. Many delegates urged the Army to make its 'rehabilitation model' a world programme, worthy for emulation by others. Methodologies, strategies, counseling and above all, the ocean of loving kindness and compassion, filled with care and warmth of Army trainers served the purpose of transforming them to be useful citizens of the country, away from the gun culture and violence.
The forum's extensive deliberations on 'rehabilitation and reintegration' of former combatants, no doubt carried a strong message across the globe and set the record straight. More importantly, those deliberations factually defused the series of fabricated and malicious misinformation, doing rounds overseas.
Gains of the Army in the field of recovery, having defeated the world's most ruthless terrorist outfit proved to the world that it was not a mere Army like any other, but it's a force that has to be reckoned with. Notwithstanding, it demonstrated to the world that Sri Lanka Army is comprised of a battalion of soft-hearted professionals, who can undertake a challenge of unbelievable nature, i.e. to transform their very demonized 'foe' to be 'beneficiaries' or 'our children'. Mindset of the formerly violent youngster was exposed to psychological, physiological, social and cultural revival, by which the combatant began to look at the Army attendee as the closest friend or the assistant at hand. This process itself was worthy of researching and taking into academic consideration, if such programmes are further needed.
Here follows the basic text of the presentation, made by Brigadier D.D.U.K Hettiarachchi on 'Reintegration of Ex-combatants and Challenges' to the recently concluded Defence Seminar at Colombo Galadari Hotel. Brigadier Hettiarachchi is the Commissioner General for Bureau of Rehabilitation

Reintegration
"Reintegration is the process by which ex combatants acquire civilian status and gain sustainable employment and income. Reintegration is essentially a social and economic process with an open time frame, primarily taking place in communities at the local level. It is part of the general development of a country and a national responsibility, and often necessitates long-term external assistance" (Secretary Generals' note to the general assembly, A/C.5/59/31, May 2005).

Introduction
1. Sustainable social and economic reintegration of ex combatants was the ultimate objective of the Sri Lankan Government on completion of the Humanitarian Operations in May 2009.
Sri Lankan Government realized that the failure to reintegrate ex combatants will undermine the achievements of the Armed Forces during the recent past and also the reconstruction programmes in the North and East.
However, Reintegration was a particularly complexed challenge in the Sri Lankan context as ex combatants and their societies had been significantly transformed by the 30 years long conflict.
Majority of the ex combatants did not have any experience, or memory, of pre-war peaceful patterns of life.
It was found that the ex combatants who had been with their organization since childhood had no memory of the place from where they came from.
Certain villages from which ex combatants came were no longer existed by the end of the conflict.
Further, ex combatants who committed atrocities in or near their own communities had a serious problem to return home.
Many ex combatants, women in particular, had a difficulty to return to their homes because they had the fear for being stigmatized for belonging to an organization involved in crimes against their own people.
2. The return of ex combatants could have also worsened the real or perceived vulnerability of local populations.
Ex combatants were seen as a 'lost generation', having been deprived of education, employment and training during the conflict.
Some of them were left traumatized by the conflict and could only understand the world from a military perspective.
Their lack of civilian skills or capabilities, combined with their habit of relying on violence to get what they wanted, would have resulted them becoming involved in predatory behavior against communities, such as banditry and theft; or they would have turned once more to their collective violence and crimes.
It is said that returning ex combatants are potential 'spoilers' of peace.
Therefore ex combatants needed focused and sustainable support in order to succeed in making the transition from military to civilian life.
However, when designing and implementing programmes, a key challenge was to fulfill the specific and essential needs of ex combatants without turning them into a privileged group with a sense of entitlement within the community.
The Reintegration support for ex combatants had to be planned to avoid creating resentment and bitterness within the wider community or putting a strain on a community's limited resources.

Partnerships and Working Together
3. Many different activities combined to make up the process of reintegration, ranging from creating microenterprises, and providing education and training, through to preparing the receiving communities for the return of ex combatants, dealing with the psychosocial effects of the conflict and meeting the specific needs of different groups men, women, girls and boys, persons with disability, and so on.
There was a need to carefully liaise with the government organizations, private sector organizations, ingo's, ngo's, and the armed forces to balance the targeted support offered to ex combatants, which aimed to increase security, with the wider support given to communities, and also to bring about reconciliation and create the conditions for recovery.
4. Reintegration programmes were designed through a participatory process that involved ex combatants and communities, local and national authorities, and other non-governmental actors in planning and decision making from the earliest stages.
Need Based Approach
5. Although there were concerns that ex combatants receive disproportionate benefits during post conflict reconstruction, a focus on former combatants was necessary and justified in order to build confidence.
The focus on the longer term reintegration of ex combatants was accompanied by interventions that focused on both the families of ex combatants and their respective communities, without whom sustainable reintegration cannot succeed.
Emphasis was placed on moving quickly from programmes specifically designed for ex combatants to community based and national development programmes.

Livelihood Attempts
6. The economic environment could be extremely problematic in the post conflict situation of any country.
Conflict caused considerable damage to physical, social and economic infrastructure, which reduced productivity of the population, employment and income generating activities.
Attention was paid to different groups to ensure that the employment, education and training needs and opportunities of women and men, youth and children are understood.
Relevant education and training, microcredit services, and other employment and business development services (i.e., technical advisory, information and counseling services) were also mapped.
This mapping was carried out at the early stages to ensure that training programmes were ready when ex combatants needed them, and reflected an understanding of local norms and standards about sex and age appropriate labour, as well as changes in gender roles that occurred during conflict.
Community Responsibility
7. Communities play a central role in the reintegration of ex combatants.
Ultimately it is communities that will or will not reintegrate ex combatants and it is communities who will or will not, benefit from a successful reintegration programme.
It was necessary to involve the families, traditional and religious leaders, women's and youth groups, and other local associations in planning the return of ex combatants as these groups receive support and training to assist the process.
The return of ex combatants to communities could have created real or perceived security problems.
Therefore programmes included a strong, long term, public information campaign to keep communities informed of the reintegration strategy, timetable and resources available.

Health
8. The rehabilitation process provided an opportunity to brief ex combatants on key health issues.
Ex combatants were likely to suffer a range of both short and long term health problems that not only affect their own reintegration prospects, but also pose potential threats to the communities to which they will return.

Psychosocial Well Being
9. The widespread presence of psychosocial problems among combatants was a major issue.
Many of them had been victims or perpetrators of horrendous acts of violence, which would have left deep emotional and psychological scars resulting in depression, apathy or rage.
As such psychosocial support and counseling were conducted extensively during the rehabilitation process.

Dealing with Disability
10. Conflict in Sri Lanka left behind large numbers of injured people and members of the armed forces and ex combatants were the most affected.
However, ex combatants were included in general reintegration programmes, whilst paying special attention to their disabilities.
Ex combatants with disabilities were benefited from the same programmes and services made available to non-disabled ex combatants.
Some ex combatants with disabilities required long term medical care and family support.
All such ex combatants were referred to government hospitals and required attention was paid such as providing artificial limbs, clutches, wheel chairs etc.

Rebuilding Lives and Productivity
At the end of a conflict there is often an abrupt release into the labor market of thousands of ex combatants who compete with ordinary civilians for extremely scarce jobs and livelihood opportunities.
In such circumstances, ex combatants might attempt to recourse to criminal activity to use make a living, becoming involved in banditry, theft and other forms of illegal and anti social gangster culture.
Economic reintegration will be successful only if the reintegration support provides or encourages viable forms of economic activity and is socially productive.
Therefore certain measures have been initiated up to now with a view to resolve the concerns of unemployment of the ex combatants.
Let us now see some of the arrangements made exclusively for ex-combatants to uplift their living standards.
a. Granting a loan up to Rs. 250 000/- at a 4% interest to initiate self employment projects. Approximately 1000 ex combatants have received loans by 30th July 2012.
b. Arrangements have been made in liaison with the foreign employment bureau and with number of foreign recruiting agencies to obtain employment opportunities in the Middle East countries.
c. Discussions are being held with number of private companies to purchase three wheeler vehicles without a down payment and to pay back in installments whilst earning from the vehicle.
d. Conducting pre- school teacher diploma courses continuously in Vavuniya.
e. Obtaining employment opportunities in the construction/development work taking place in the north and east through the ministry of economic development.
f. Providing required resources to initiate agriculture projects in vavuniya through various NGO's on the basis of buying the harvest by respective NGO's.
g. Arranging vocational training courses in Vavuniya and Jaffna targeting the most demanding jobs in the market.
h. Initiating an Aloe Vera farming project in the Jaffna peninsula.
i. Assistance to obtain bank loans for self employment projects at regional and local level.
j. Initiating crab fattening project in the Jaffna peninsula.
k. Establishing a cement brick making project in the Jaffna peninsula.
l. Providing water pumps for agriculture purposes in Vavuniya.
m. Providing sewing machines for self employment in Vavuniya.
n. Providing boats and required equipment for fishing in Mullaitivu.
o. Obtaining it related business process outsourcing programmes from corporate sector.
p. Absorbing to the civil security department to deploy on development and agriculture projects.
Education and Skill Development
11. Many ex combatants had missed opportunities for basic and further education, and as a result are disadvantaged in the competition for jobs and opportunities.
Provision of adult literacy classes, adult education, and technical and vocational training was important both to improve the skills of adult and young ex combatants and provide opportunities for reorientation and reintegration.
Therefore number of educational programmes were initiated for the ex combatants to appear for recognized examinations.
12. Ex combatants often needed to learn new skills in order to make a living just like anybody else.
Vocational training played a vital role in successful reintegration, by increasing ex combatants' chances to effectively join the labour market.
Training also helped break militant and criminal attitudes and behavior, and develop values and norms based on peace and democracy.
Vocational training activities needed to be linked with studies of the local labour market and identification of the economic potential of an area and its business opportunities.
Certification of training was proved important in ensuring that the quality of training given by the different providers is similar, to increase the confidence of ex combatants when applying for work, and to gain recognition by employers.
Empowerment of Women
Income generation: basic guidelines
13. Women who involved in the militant acts were confronted with a number of additional difficulties during their reintegration process, as they are often faced with the community's negative perception of their involvement.
The social and cultural stigma was considerable in the case of women.
In many societies, radical engagement even in near crimes is unorthodox for girls.
As a result, many face rejection by their families and in-laws upon return from the conflict, which means that they risk being excluded from traditional community based social support systems.
14. While women combatants had been the equals of boys as cadres during the conflict, many careers are denied to them as girls during peacetime.
Therefore they were forced into a narrow range of industries and occupations that are generally lower skilled and lower paid.
In addition, young women often faced even greater discrimination than adult women in the labour market, as it is believed that they will soon get married and leave their employment or become strain on the financial capital of the employer if they become pregnant or have young children.
It was necessary to carry out a detailed assessment of the reintegration needs of girls and young women.
The differences in age, status in the organization, exposure to gender based violence, profiles and ambitions were some of the aspects taken in to consideration when deciding programmes for them.
Higher ranked young women were offered specifically designed assistance to give them access to important jobs in the post-conflict period.
15. Community acceptance was essential for reintegration of ex combatants.
But, preconceived ideas and expectations about ex combatants coming out of a terror ridden terrain of the defeated outfit or the scars of violence committed against families or communities could severely limit community support.
Cultural, traditional and religious rituals can play an important role in the enabling process and reintegration of ex combatants into their communities.
Care was taken to ensure that religious beliefs serve the best interests of the ex combatants, especially in areas where religion or cultural values had played an important role in recruitment.