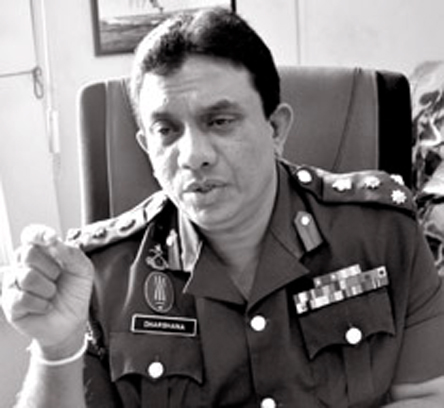 Sri Lanka's success in rehabilitating former terrorists would make it the best model for other countries which face similar conflicts and also in the rehabilitation of ex-cadre, said the Commissioner General of Rehabilitation, Brigadier Darshana Hettiarachchi.
In an interview with the Sunday Observer, he said "Nearly 11,000 ex-tigers are back with their families and living peacefully. Only a handful of incidents, where ex-LTTE cadre had been involved, were reported from the East for the past three years and thousands of them who were known as members of the world's most ruthless terrorist outfit are now living peacefully. Isn't it a great story?", he asked.
But Brig. Hettiarachchi said the Tamil Diaspora could contribute meaningfully to help these youth lead better lives by creating employment and educational opportunities for them.
"It is sad to note that nothing significant is coming from them. I think it is the best time for them to invest in their future", he said adding that no force with vested interests or hidden agendas can mislead them to take up arms again as they want to live peacefully.
Meanwhile, he explained how his office took measures to unearth the true story of what happened to Kerbert Morino Leon Roxy, an ex-LTTE cadre who had been claimed to be missing.
His mother, Saroja Devi of Mullaitivu who processed a picture of the youth, had complained that her son went missing after a reintegration ceremony held in Colombo, to release over 1,000 rehabilitated ex-cadre.
"We traced the mother and showed her the pictures and videos which were taken at the ceremony. We wanted to clear her doubts.
After scanning all the pictures carefully, she said the youth whom she claimed was her son was mistakenly identified", Brig. Hettiarachchi said.
He said his office was taking steps to trace her son to find if he had surrendered during the end-battle and is undergoing rehabilitation.
Excerpts of the interview:
Q: Out of over 11,600, there are only 698 ex-LTTE cadre still under rehabilitation. Can you give a time frame for their release?
A: They were sent for rehabilitation on Court orders and they will be here for a year with effect from the date they came to the rehabilitation centres. It is difficult to give a particular date or time frame to release them all. Each ex-LTTE cadre who is sent for rehabilitation has to undergo rehabilitation for a year.
Responsibilities
Q: Once the number is reduced to zero, will the tasks and responsibilities of the Commissioner General of Rehabilitation be over?
A: We have designed a mechanism to monitor the progress of those who have reintegrated into society. We plan to monitor their post-rehabilitation, to restore their livelihood and explore employment opportunities. This is to ensure that once they are released, they lead normal lives as useful citizens and make their contribution towards the development of the country.
Q: Livelihood restoration is one main area that will assist them to stand on their own feet. What are the plans you have to help them in this regard in the post-rehabilitation process?
A: The Government has already allocated Rs. 300 million to grant loans with a maximum of Rs. 250,000 at only four percent interest. We are in the process of selecting suitable candidates.
Another step is exploring foreign employment opportunities for them. We have already negotiated with the Foreign Employment Bureau to explore employment opportunities, especially in the Middle East and South Korea.
There is another project we are going to introduce to give them three-wheelers without a downpayment, so while earning, they can re-pay the instalments.
Q: Over 11,000 ex-LTTE cadre are now back with their families. Are you satisfied with the rehabilitation process?
A: Yes. During the rehabilitation period we concentrated on many aspects; to give them facilities for meditation, sports, educational and vocational training.
We concentrated on six components in rehabilitating them and by the time they complete the rehabilitation period, they have followed the courses. While educating them on theoretical aspects, they will be motivated to mingle with society, to be kind to people and to respect and accommodate ideas of other people. We held a especial counselling program for them with a view to changing their destructive ideology and mindset which they had acquired due to being brainwashed by the LTTE.
Instead of taking revenge, we teach them to respect people and live peacefully with them.
Q: However, one major complaint is that they are not getting enough financial assistance from the Government to begin their lives. Do you have any other plans to assist them in generating an income?
A: That is why the Government has initiated some loan schemes to help them to start self-employment projects. This program will be introduced by the end of next month. Then we will start giving them loans. We have plans to introduce several programs to assist them in income generation, but we need the support of the public as the Government alone can't shoulder the task.
Familiarisation tours
Q: During the rehabilitation process, these ex-LTTE cadre were taken on familiarisation tours to the South. Do you feel these interactions between the people of the South and ex-LTTE cadre have resulted in changing their negative image?
A: Yes, I am confident that we were able to bring about a change in their lives. Over 90 percent of the ex-LTTE cadre didn't have the opportunity to interact with those from the South. All their lives they believed the wrong picture which was painted by the LTTE. They had been brainwashed by the LTTE about the Sinhalese and the Security Forces. The LTTE had propagated myths about Sinhalese people being revengeful, as those who hated Tamils and were grabbing their lands. The misled youth were told that the Sinhalese wanted to chase the Tamils from the North, to make Sinhala colonies there.
They were motivated to fight against the Sinhalese and the Security Forces.
However, after they met people from the South and experienced their warmth, hospitality and help, they were convinced of their goodness and they intend to develop relationships with the Sinhalese after many decades.
There was a time, during our grandfathers' time or even before that, when young children from the South used to stay with families in Jaffna, Mullaitivu, Kilinochcchi and Vavuniya. This helped build a close understanding between communities, leading to the peaceful co-existence of all communities. Similarly, Tamil youth stayed with Sinhala families. This way, both enjoyed each other's culture, food, traditions and even their feelings. This helped strengthen the historical relationship between the two communities.
Unfortunately, this good relationship came to a standstill because of LTTE terrorists and it was so unfortunate that these youth who were born after the 1980s have never experienced this interaction with the Sinhala community. The main intention of arranging these trips was to revamp that interaction between them. On the other hand, they also can see the developments taking place in the South.
We have already arranged several trips to the South and these trips have made a great impact on their lives, to change their attitude.
Q: No one can deny that they are talented youth. How best could their talents be tapped in nation-building?
A: These youth are given vocational training during the rehabilitation process. They were given the option to select those who were interested. According to their performances, they are awarded the National Vocational Qualification Level I, II and III certificates, which are well-recognised locally and internationally. Even if they want to find jobs abroad, they will easily get employment opportunities as they have completed these courses. We have given maximum opportunities to enhance their capabilities and to find suitable jobs to suit their talent through the vocational training they received under the rehabilitation process.
Tamil Diaspora
Q: It is no secret that the pro-LTTE Tamil Diaspora, which still dreams of an Eelam, is trying to grab their support. Is there any possibility to tap these ex-LTTE cadre who are released after rehabilitation?
A: I am confident that over 90 percent of those who are reintegrated into society will not allow anyone to 'use' them. They have realised the value of life and the importance of living with their families and educating their children. They want their children to see a world free of terrorism. They want an era where terrorists don't grab their children like the way they were forcibly conscripted by the LTTE. All these youth were isolated in the North and never given the opportunity to see the outside world.
In a country free of the LTTE, now they know there are many opportunities for them to develop their talent to live as peaceful citizens. Peace was missing in their lives for over three decades.
The Government is confident that the Tamil diaspora or any other force attempting to drag them or mislead them would be futile as they are aware that they were 'used' by the LTTE and its supporters.
We have well-designed counselling programs where they are given programs to change their mindset. During these programs we made efforts to inculcate human qualities in them. Counselling has brought about an impact on their lives.
We are confident that they will think twice before they take a decision to go against people.
Q: Most youth born 30 years ago have not seen or interacted with a soldier due to LTTE propaganda. To them a soldier is evil. What action has been taken to change this image?
A: In all the rehabilitation centres, the rehabilitation process is carried out by the Security Forces. Before they start as officers in the rehabilitation centres, they have to follow counselling programs to educate them about how to tackle issues effectively. Only selected officers are employed in these centres.
Today, these officers have become best friends of the rehabilitated youth. Even after they go home, they maintain a rapport with these officers and call them when they need help. "They give us calls just to say 'hello'," the Brigadier said.
The other factor contributing to change this image is that the officers rehabilitating these youth are also in the prime of their youth and they know the pulse of another youth.
What I can say is that ex-LTTE cadre are more disciplined now as they have been in touch with disciplined security officers for nearly a year. Even their physical appearance is disciplined.
Q: One major issue in post-rehabilitation is that their own people don't want to accept them in their villages. How do you overcome this situation?
A: This was a serious issue and the main reason was these youth were controlling them at one time. They were conscripting people and killing their loved ones. Still they hate them and the villagers who are resettled don't want them to be in their villages any more.
To make the environment safe for rehabilitated youth when they are integrated into the society, we have launched several programs to educate the public, including religious dignitaries in the North and the East to welcome them back to their villages and to make the community aware of the importance of accommodating them back by forgiving them as they have been misled by the LTTE.
This system has been effective and most of the rehabilitated ex-cadre are leading normal lives in their areas.
Interrogations
Q: There are allegations that the officers of the Army and Police are still interrogating these youth who are in their homes. Is this true?

A: I refute this allegation as no one except officers assigned by the Rehabilitation Authority are allowed to visit them. After Care Committees have been formed by the Bureau of Commissioner General of Rehabilitation which are located in each district of the North and the East mainly to assist these people. Since their society has identified these youth, sometimes they will have problems in getting things done. In such instances, the committee members get involved to solve their problems. We are negotiating with the parties concerned to solve these issues.

Except for committee members, there is no authority for others to interrogate or monitor them. When there are ex-cadre who are under special supervision due to their heavy involvement with the LTTE-like killing people damaging State property or engaging in criminal offences - the especially authorised officers from the Terrorist Investigation Division or Police are given permission to investigate even after their release because they are still needed in ongoing investigations.

Q: There were some allegations that released LTTE cadre were engaged in criminal activities in their areas. What is your comment?

A: We started integrating rehabilitated ex-cadre back into society since 2010 and over 10,000 are back with their families now. Only three to four such incidents were reported in the East.

One needs to remember that these youth were members of the most ruthless terrorist organisation in the world, but we have successfully rehabilitated them within one year. It is the biggest achievement in the rehabilitation of ex-LTTE cadre.

Q: Compared to other countries which rehabilitated their former terrorists, how do you evaluate this process?

A: I think our program is one of the best and it has been proved. After releasing them, they are leading peaceful lives. The initial task was restoring their livelihood and as I explained earlier we have taken significant steps to find employment for them.

We are proud that Sri Lanka's success story on rehabilitation of ex-terrorists is a model to other countries with similar conflicts.

Q: In the post-conflict situation, the Tamil Diaspora has a huge responsibility of rebuilding the nation. Do you feel the help that comes from them is enough or what more can they do to help these youth?

A: I think they have a significant role to play other than raising various issues in other countries to destabilise the peace here and tarnish the good image of the country.I believe this is the best opportunity to lend a helping hand to these missguided youth to stand on their own feet. If they are honest and want to change the lives of these youth, they can contribute in many ways to help them.

What I can say is that there is nothing significant coming from the Diaspora in this regard and their contribution in the healing process, including in rebuilding the nation and rehabilitation of ex-LTTE cadre, is very low. (Courtesy: Sunday Observer)