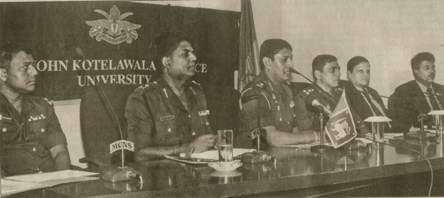 GENERAL Sir John Kotelawala Defence University (KDU) Vice Chancellor invited university qualified sporty and healthy youth to join the KDU and intelligent, highly capable and motivated graduates to be officers of the Armed Forces of Sri Lanka.
Vice Chancellor Major General Milinda Peiris at a press briefing at the Media Centre for National Security said the University Grants Commission approved KDU is the only university of its kind in Sri Lanka and in the South Asian region. The KDU is a member of the Association of Commonwealth Universities-United Kingdom. The graduates can apply for a postgraduate for any of the commonwealth universities.
Vice Chancellor said male and female between 18 to 22 years could apply. They can become graduates and cadet officers and join the Armed Forces as second lieutenants after completion of the course.
Referring to the progress of the university, Major General Peiris said it established a medical faculty in association with the Ruhuna University medical faculty and a Law Faculty will also be set-up next year. He said the KDU consists of many streams including Bachelor of Medicine and Surgery. The Engineering Faculty consists of civil, mechanical, electrical and electronic, marine and aeronautic engineering. There are Management and Technical Sciences, Logistic Management and Social Studies, courses.
Vice Chancellor Peiris said each officer will be paid a Rs 23,000 monthly salary and provided free lodging, uniforms, batmen facilities, recreational facilities, and medical facilities. They will be made permanent after completion of the course. With all these facilities undergraduates can continue their studies without being a burden to their families.
He said the closing date of application is April 9 and applications are available on www.kdu.ac.lk. Vice Chancellor said the applicant should possess a minimum of a credit pass for English language at the GCE (O/L) Examination and they will have to sit for a written test held by the KDU that includes general knowledge, IQ and current affairs. (Courtesy: Daily News)